1.2.2022


Praise.
Praise.
Praise.
Glory.
Glory.
Glory.

thine is
the LOVE
thy kingdom
the power
with glory.
for ever and ever.
AMEN.

in between
in love breath in through nose - hold 5 seconds
in love, breath out through nose
and let it expand.



repeat only 1 x


Meanwhile keep hands 25 cm in front of your chest. Keep thumbs side by side.

! only 2 x daily .
strengthens the immune system and self-consciousness.
gives strenght, joy etc .
Almighty
Lord
our
Father
Amen.


Dear beloved Planet Earth.
I love you.


Request special tips for cough via contact page


Thank you Hl. Mary
Mother of GOD


We are all equal


Thank you
Glory to GOD
Glory to GOD
Glory to GOD
AMEN
Soul healing
through Ulrika
She was born to help people solve the spiritual "bonds" that they were "created" in past centuries and in the present life.
She balances out imbalances so that harmonization can advance the healing process on earth, in humans and in the atmosphere. At the same time, the inner trust with which every person comes to earth is brought back to new vitality. She contributes to support of the human immune system. The more the immune system gains stability, the more the individual is able to compensate for imbalances in his energy field and is ready to give up self-rejection.
23.03.2021
T h a n k y o u
is the highest prayer.
Through this
we always thank God the Almighty.
Awareness is increased.
Thank you

31.10.2020
to be in love Jesus Christ love .
8. 7.2020 2:00 CET
LOVE Jesus Christ
works for everyone
and the temple
is built in love.


Be healthy.


This year the most beautiful Easter is coming true . .


in humility
Love und Joy


on Saturday 28.3.2020 CET,
ALMIGHTY JESUS CHRIST LOVE
fills all people, no matter which religion is lived .
His will happens .


on Friday 27.3.2020 CET,
Almighty JESUS CHRIST LOVE fills all people .


on 26.3.2020 CET,
Almighty Jesus Christ love fills all people .


on 16.3.2020 CET,
through Jesus and St. Mary, mother of God
were all boys from 7 years and all men
blessed .



on 9.3.2020 CET,
through Jesus and St. Mary, mother of God
were all girls from 7 years and all women
blessed .



Since February 24th, 2020,
everyone who holds both hands together during yoga and greeting,
       experiences Jesus Christ love
no matter what religion.



1.12.2019
❤
The APOCALYPSE began in late 2017
praised
be
Jesus
Christ
Amen.
Here you can see the grape video.
Here is the direct link to YouTube:

Weintrauben JCH.



A very special effect:
     3 days per day, once in the morning, at noon and around 2 p.m.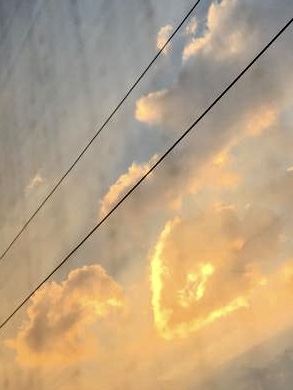 Evening sky over Königstein/Taunus, Germany
28.2.2019
Almighty Father
Almighty Eternal Love
1 Corinthians 13
on Easter Sunday, 21 April 2019 19:12 CET
Has, in all the lucky cloverleafs signs
increased in auspiciousness;
throughout the earth .




JESUS Christ Consciousness
on 19 April Patience
Chance is Fate
From 14 September 2018,
in every NEW church, in those who come .
since 2.9.2018 , Sunday is St. Mary with St. Joseph in operation.
On 4 March 2018 CET St. Mary Mother of God had blessed all.
We praise all .
Glory be to the Father
and to the Son
and to the almighty Holy Spirit
as in the beginning
so also now
for ever and ever.
Amen

Almighty
Lord
our
Father
Amen.

Hail Mary
full of grace
the Lord is with you
blessed art thou among women
and blessed is the fruit of thy womb. JESUS
Holy Mary Mother of God
Help me
or help ...
Amen

Prayer U.M.Ziegler - "You"

You

are the breath
in all my life


You

penetrate the silence
perceptible with your perfect
delicate and powerful essence -
enveloping like a mantle
of security

Blessing prayer

before eating

Almighty Holy Lord God bless all the gifts.

Thank you.

Amen.


Kalender 2017 "BEWUSSTSEIN"

Healing calendar "AWARENESS" by Ulrika M. Ziegler span> h2>

This healing calendar is effective for one hundred years.




Ulrika M. Ziegler photographed water and through these pictures special almighty Lord God's are messages visible.



It is a high quality annual calendar with individual monthly sheets.

P>

Calendar Topic: AWARENESS

Calendar type: wall calendar art print
Dimensions: portrait, 53 cm high x 37 cm wide


Item no .: 35715

ISBN: 978-3-9816562-3-7


To buy from
---